Creaser Folder Product Feature : Why Buy a Multigraf Touchline CF375
Posted on 1 October 2018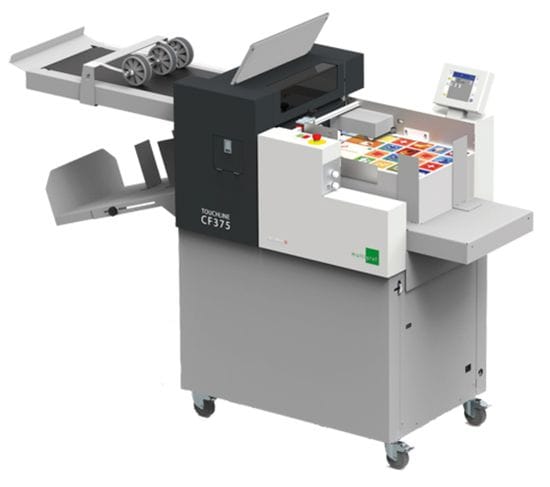 Are you in the market for a new creaser folder? Multigraf offers the high-tech Touchline CF375, a game changer in print finishing and we have the scoop on what it can do for you.
The CF375 Creaser, Folder is the perfect print finishing machine for creasing and folding for mid- to high-volume printers at up to 6,000 creased and folded sheets per hour. High quality, non-stop productivity for documents up to 400 gsm and size up to 14.76" x 39.37" with an optional tray extension. This print finishing system offers more automation and flexibility than any other system in its class. This Multigraf print finisher CF375 incorporates teh Multigraf Swingbar System to prevent cracking when creasing. It also comes with an air knife for exact sheet separation. The CF 375 can also operate as a stand alone creaser or perforator. Best of all, the system creates all settings automatically, just press the button!
See it in action:
The automatic setup on the depth of the crease with different positions is an important feature which also speeds up the creasing process with an accuracy of 0.2 mm.
Multigraf's Pro Knife System in the folding section achieves a perfect fold and also avoids scratching and marking on stock.
If you want your print job to stand out from your competitor, make sure there is no "cracking" present on your completed folded project. Multigraf's Touchline group of products can take your print job to the next level and beyond!
---

With over 100 years of combined print finishing experience, we have secured exclusive access to the Multigraf Touchline series of creasers, perforators, folders, and slitters to bring affordable, high quality equipment to Canadian printers. Contact us to find out more about our Multigraf series of finishers.