6 Ways to Attract New Customers with White Toner Printing using the OKI 942
Posted on 13 February 2018
If you are doing In-House printing you can create exciting new opportunities using White Toner Technology with the OKI C942. Beyond Four Colour printing makes it easy to achieve levels that most short run printers cannot achieve.Produce exceptional White on colour and colour on colour using white toner under CMYK or alone on a wide range of media. Create new opportunities for your business, whether you are a print shop, design firm, invitation specialist or in retail.
1. Colour on Colour Printing Creates Eye Catching Designs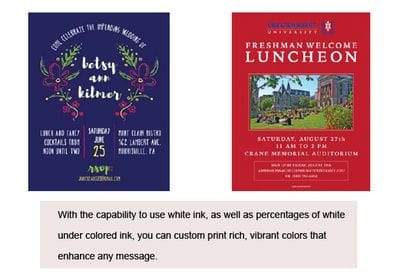 Color-on-color can allow printing company's to easily and effectively attract new customers and upsell existing ones. With applications that deliver high-value output, you can increase revenue by better serving a wide range of sectors including retailers, restaurants, event and convention planning companies, hotels, organizations, universities, and schools.Today's advanced digital color printers produce spectacular results on a variety of media including polyester; metallic, heavyweight and colored stocks; magnets; banners; and more. With the capability to use white ink, as well as percentages of white under colored ink, you can custom print rich, vibrant colors that enhance any message. The result: exceptional value for customers that demand bold graphics. Done on the OKI C942
2. Vibrant Colours Produce Dazzling Signage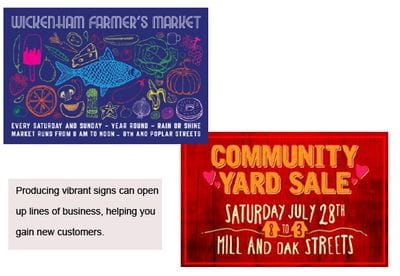 The demand for signage continues to rise, for event promotions, directions or warnings or other uses. Our new white technology can allow you to affordably print specific warning signs that meet our ever changing safety standards or to ensure the corporate and event logos conform to your customers branding guidelines. Also there have been huge advances in available stocks including weatherproof signage. Done on the OKI C942
3. High End Invitations Entice Upscale Customers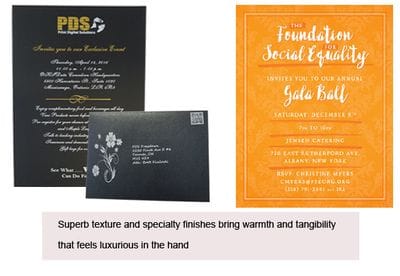 In a world of email, printing spectacular invitations and envelopes can help your customers stand out and help you increase profits. Superb texture and specialty finishes feels luxurious in the hand, all of which can boost your business through printing high end invitations for weddings and other life changing events as well as for corporate and philanthropic functions. By doing business with even a handful of event planners, you can gain a continuous supply of new orders and increase your monthly billings. Using the right digital printer allows you to offer vibrant and subtle colors. This broad range of capabilities can enable you to print nearly any imaginable invitation on a single piece of equipment, making it an excellent business opportunity.Done on the OKI 942
4. Promotional Door Hangers Deliver Quick Results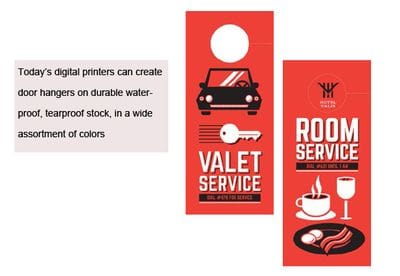 Door hangers create a cannot-miss marketing tool that can achieve huge results. This high volume business is used by local retailers, restaurants, and real estate brokers, as well as to lawn care providers and other contractors. In addition, hotels, hospitals, fund raisers, universities, and schools are also great contenders. That adds up to a sizable increase of new customers that rely on a constant need of door hangers to increase new business. Today's digital printers can create door hangers on durable waterproof, tearproof stock, which does not require lamination, and in a wide assortment of colors. By adding door hanger capabilities to your business, you can increase your profits.Done on the OKI C942
5. High Impact Postcards Mean Business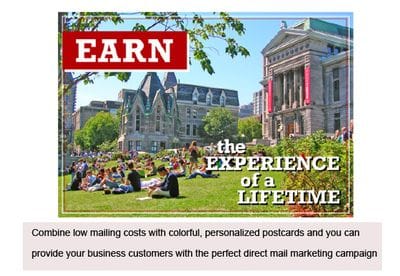 Gain higher response rates than more expensive standard letters and envelopes. Lower cost/higher response rates mean your customers can afford to send more postcards to more prospects and customers as well as to send follow-up mailings to the same list of recipients. Many businesses can add postcards to their promotional and marketing campaigns, including local retailers, real estate brokers, and service providers, as well as eye doctors, dentists, schools, clubs, organizations, and others. With the proper digital equipment, you can efficiently print large and small runs on a variety of finish cardstocks and increase your earnings. Done on the OKI C942
6. Paper Posters Offer Practicality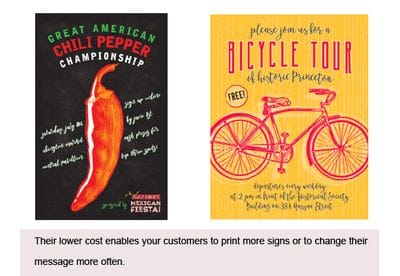 With weatherproof, tear-proof paper you can deliver posters that can nearly match the strength of other stocks at a substantially lower price. Not every application needs costly cling film, fabric, boards or pressure sensitive vinyl.
All the above produced on the OKI 942