6 Things you don't know about Duplo's DC 646 Slitter/Cutter/Creasers
Posted on 27 November 2017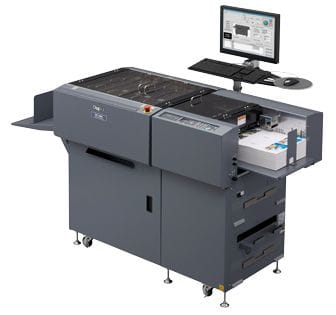 Duplo continues to lead the way with their most popular all-in-one digital colour finishing solutions. The DC 646 Slitter/Cutter/Creaser's ability to finish full-bleed applications with precision makes them the ideal tool in all print shops. By utilizing technology, the learning curve for operation is lowered and helps less experienced operators get the job done. Controlled by a computer, the Duplo Slitter/Cutter/Creasers offer next generation features to centralize workflow and increase productivity. Continue reading to find out what these features are.
1. PROCESS APPLICATIONS WITH RAISED UV COATING
In today's market, specialty finishing is hot. Give life to your work as raised, textured, and spot UV coatings are being applied to printed products to make them really stand out. Raised UV, really raises the bar by highlighting areas such as windows on a building or drops in a glass, giving your product the extra edge.
The Slitter/Cutter/Creasers boast a soft sponge roller system that can accurately process applications with raised UV coating up to 100 microns. The soft sponge rollers configure to the thickness of the coated stock and hold on to the paper as it proceeds through the finishing process.
Minimize scratches and damage as there is no clamp to put pressure on the paper and crush the raised UV or slippery metal rollers that can cause errors in finished products.
2. CREATE A TEMPLATED BARCODE WORKFLOW WITH EFI
Operators that have the EFI Command WorkStation and Fiery Impose can already boost an application into a multiple-up job. Operators can also utilize Duplo-based imposition templates on the Fiery as well as apply barcodes and registration marks that can be read by the internal scanner in the Slitter/Cutter/Creaser. By integrating these two Duplo features, printers can create barcode work flows that let the Slitter/Cutter/Creasers run automatically without the need for operator intervention.
The finishing templates provided by Duplo come pre-set with measurements for the margins and gutters as well as finished sizes, eliminating setup time immediately.
Using a barcode reduces errors as it prevents jobs from being run incorrectly. Simply load the paper and press start. Jobs can be done in any order, as the sheets are fed, the scanner will read the barcode and if it detects sheets for a different job, the Slitter/Cutter/Creaser will adjust to the job linked to that barcode and automatically adjust. Image shifting is an issue for most digital printers. Registration marks help ensure each sheet is finished accurately. For example, when cutting business cards, consistency is vital to ensure you reduce waste. When it detects an image shift, it automatically adjusts in all four directions to accommodate for the change in the image position.

3. ADD IN-LINE FOLDING
Folding is common work across most print shops whether its tent cards, direct mail, or tri-fold brochures. Every touch point costs money. Printers that have a Slitter/Cutter/Creaser have the option to eliminate an extra setup by adding an in-line knife folder to their device with the Duplo Integrated Folding System (IFS). The ability to upgrade to in-line folding at any time doesn't limit your growth potential. By adding the IFS, operators can go from flat sheets to finished pieces that are cut in both directions, creased, perforated, and folded in one pass.
4. PRODUCE TINY CARDS
The Slitter/Cutter/Creasers capabilities continue to extend and provide versatile solutions. Duplo has introduced a new feature called "Process All" which allows the DC-746 and DC-646 to produce cards smaller than 2" in length. With this setting, operators can program and produce cards down to 1.25" x 2".
5. FINISH BANNERS

Many of the newer digital presses are now capable of printing long banners. The Slitter/Cutter/Creasers can be adjusted to process these long banners up to 39" in length while maintaining the same accuracy by utilizing the image shift compensation on the fly. Users can easily bleed trim these banners down to their finished size. Operators can also print more items on a sheet to further reduce the print costs of applications such as business cards and brochures. These banner sheets are loaded onto the feeder and are accurately slit, cut, creased, and perforated like traditional 12" x 18" sheets.
6. TOOLING STATIONS - INTERCHANGEABLE
Duplo's new Rotary Tool Modules (RTM) have interchangeable processing wheels which eliminate the need for multiple modules/cassettes to produce various types of finishes. Each RTM comes with a pair of the following tools: standard perf, micro-perf, rotary score, and slit-score. Operators can easily install the desired tools to run each application.
For example, take a simple LTR tri-fold piece with a reply card. This application is typically printed 2-up on a 12" x 18" sheet and requires a perf and score in the direction of the paper path. The operator can install the scoring and perforating wheels on the same RTM and produce both finishes along with bleed trimming in a single pass.
Not requiring separate rotary score and perf cassettes improves the efficiency of the job and helps keep equipment costs down.

With the Duplo Slitter/Cutter/Creasers print shops have the opportunity to frame their workflows. It's an opportunity to reduce labor costs and downtime while increasing productivity. The lower the touch points, the higher the profits!
Click here to see these products